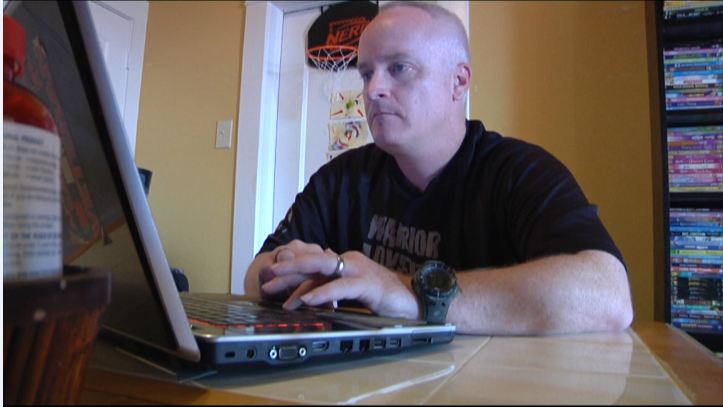 A Fort Hood soldier is fighting charges after he says police violated his gun rights, and he says they're still being violated weeks later.
Army Master Sergeant and well known blogger CJ Grisham says he never should have been arrested and his guns never should have been taken away.
On March 16, Grisham was on a Boy Scout hike with his son on a country road in west Temple.
He had a loaded assault style rifle strapped across his chest.
It was legal for him to carry, but a concerned citizen called police.
His Lawyer Kurt Glass says, "This was not a populated area. SGT Grisham was not threatening anyone."
Police say when their officer arrived, he tried to take Grisham's gun for the course of the investigation, but that Grisham refused.
Glass says, "We believe that SGT Grisham complied with police officers' request and was still arrested."
At some point, the cop drew his own weapon and pinned Grisham until backup arrived.
The officers then cuffed him, took his rifle, plus a concealed weapon with valid permit, and took him to jail.
Grisham's lawyer says Grisham wasn't told at that point what he was being arrested for.
"An officer has a right to disarm you for his safety if there is a problem, and what we're maintaining is that there was no problem," Glass said.
But a Temple Police spokesman says the officer did what he had to do to ensure his own safety.
CPL Chris Wilcox said, "Officers are people too. They have families, they want to go home and see those families. It would be very difficult for an officer to determine immediately who's a threat and who's not a threat when there's a gun involved, especially a high powered weapon, like an assault rifle."
He also says Grisham should have complied.
"The actions of the individual are what led to the arrest. If he feels that the officer acted inappropriately or acted in error, there is a judicial process that he's free to follow," Wilcox said.
In Sec. 411.207, state law says, "A peace officer who is acting in the lawful discharge of the officer's official duties may disarm a license holder at any time the officer reasonably believes it is necessary for the protection of the license holder, officer, or another individual. The peace officer shall return the handgun to the license holder before discharging the license holder from the scene if the officer determines that the license holder is not a threat to the officer, license holder, or another individual and if the license holder has not violated any provision of this subchapter or committed any other violation that results in the arrest of the license holder."
On an online fundraising site Grisham created to cover his legal fees, he says quote "I am completely innocent of this and all charges, and time will show that I did nothing wrong besides stand up for my rights as an American."
Grisham's guns are still in evidence at the Temple Police Department.
State law says, "If a peace officer arrests and takes into custody a license holder who is carrying a handgun under the authority of this subchapter, the officer shall seize the license holder's handgun and license as evidence," in Sec. 411.206.
His Lawyer says, "He's concerned about his ability to protect himself and his constitutional rights."
Right now Grisham is just fighting for his right to walk free.
An initial resisting arrest charge was reduced to interfering with a public official Monday.
Still the charge carries up to a $2,000 fine and six months in jail that would essentially end Grisham's military career.